---

---

---
D O W N L O A D S



---
N E W S L E T T E R S
---
N O T I C E S<![if pub11]>
---
Handmade Cards and Woodwork items for Sale
We have quite a selection of handmade designer cards and workshop creations hand-made by our clients and available for purchase.
Call us or come in to and see us today if you're interested in making a purchase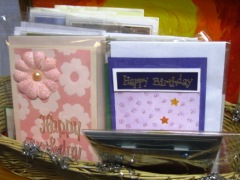 M o T e H e k e M a i P a i - F o r a P o s i t i v e F u t u r e
Nau mai! Haere mai! Welcome to Strive Rehabilitation Manawatu
---
Our Mission
Providing positive community-based rehabilitation in partnership with people who have acquired brain injury
---
Rebranding
Please Note: The New Zealand Stewart Centres, including Manawatu, have decided to rebrand to Strive Rehabilitation.
From 1 December 2017, the Manawatu Stewart Centre will be known as 'Strive Rehabilitation Manawatu'.
The word 'Strive' has some rich meaning which aligns well with our rehabilitation philosophy:
'to apply oneself'

'to make every effort'

'to work hard'

'to do one's best'
We will have a full brand launch in the New Year (February 2018)and would like to invite all our stakeholders to this special event, so watch this space! ....
---
Our Values:

Caring support

Positive partnership

Honesty and integrity

Diversity – respecting differences

Professionalism

Collaboration with Tangata Whenua

Our service provides:

Incorporates:

Community participation

Cultural Diversity

Promotes:

Brain injury awareness and education

A safe, positive, social environment

Peer support and personal development

Eligibility:

For people from 16 years of age with acquired Brain Injury

Applications assessed on an individual basis

*Exclusions: People whose needs are better met in mental health or intellectual disability services
Certification/Standards:

Strive Rehabilitation is audited by Health Audit NZ against two standards:
ISO 9001:2008- Quality Management System

NZS 8158:2012 - Home and Community Support Sector Standard
---
Our History
Up until 1 December 2017, Strive Rehabilitation Manawatu was known as the Manawatu Stewart Centre. A Stewart Centre was first established in Auckland by Alex and Mary Stewart in 1991 after their son, Tommy's accident in Australia.
In Palmerston North, the Stewart Centre operated for two years under the umbrella of the Brain Injury Association Central Districts (BIACD)
The Manawatu Stewart Centre Trust (MSCT) was established as a separate entity in January 2001, with Board members from BIACD and the Palmerston North community.
---
We have contact time and rehabilitation programmes 5 days a week 9am to 3pm
ACC and Ministry of Health contract our Service as a preferred provider.
The Referral process can be through an ACC Service Coordinator, Enable NASC, Key Worker of any Support Agency, GP, Health Professional or family.
---
Our Staff
Click on a staff member to read their profile
---